Portfolios Cafe
Portfolio's offers employment opportunities for individuals with mental health needs who are interested in seeking community employment. Employees are provided basic skill development and are trained in all aspects of restaurant work.
137 Washington Street Binghamton, NY 13901
Breakfast & Lunch, Catering and Carry-Out
Downtown Binghamton Delivery Available!
Phone: 607-723-4703
Fax: 607-723-4704
(Please call to confirm any faxed orders)
Wi-Fi Available!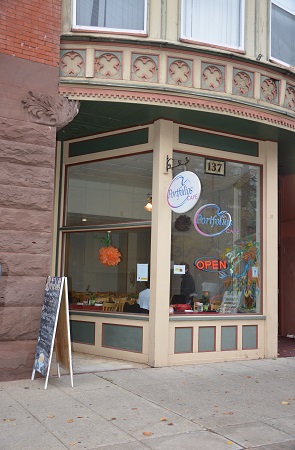 Hours of Operation:
Monday - Friday
7:30 a.m. to 2:00 p.m.
Open Evenings, Saturday and Sunday for Special Events
Menus
The Café also offers catering for those in-house meetings, parties and special events. Call the Café and our Catering Manager can meet with you and assist in planning a stress free event! (24-hour notice requested. Thank you!)
The Art Gallery at Portfolio's
The unique ambience of Portfolios Cafe is, in part, due to the art that lines its walls. Each month, another talented local artist is featured in this unusual restaurant-gallery.
About Portfolios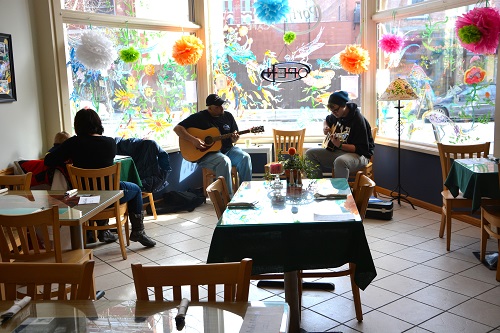 During the latter part of the 1970's, Catholic Charities established the first mental health housing program in Broome County and assumed sponsorship of the CORE Service Agency, designed to monitor, evaluate and develop community support services. From this, a proposal to establish a Cafe as a special employment program for young adults was approved and funded by the NYS Office of Mental Health.
Portfolios Cafe opened in March 1987 and has since employed over 300 individuals, many of whom have established a successful work history for the first time and/or have gone on to successful competitive employment.
Catholic Charities takes great pride in the current and past employees who have participated in the program under the guidance of the Cafe Manager and Supervisors. Their work represents another step forward in building a comprehensive community mental health program.
---