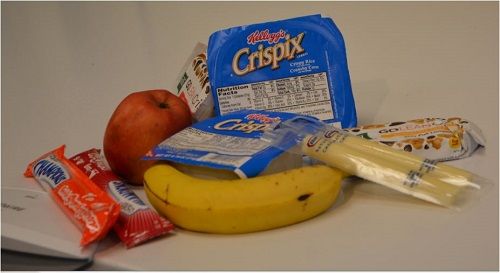 Catholic Charities of Broome County has received a $75,000 grant from the Walmart Foundation for its 'Nutritiously Full' food program. The grant from the Walmart Foundation's State Giving program will offer fresh fruit and vegetables, whole grain products and other healthy foods to people utilizing Catholic Charities' Emergency Food Pantries.
Kathy Pfaffenbach, Catholic Charities' Supervisor of Emergency Food Services, said: "The Walmart Foundation grant will help us offer healthier choices to families requesting food."
Walmart officials presented a check to the Catholic Charities representatives at an event today at the Emergency Food Pantry located at 100 Main Street in Binghamton.
"Walmart and the Walmart Foundation are very pleased to be supporting Catholic Charities, and are committed to helping those in need in the communities where we serve," said Michael Judd, Walmart Market Manager. "Through this grant, we are hopeful that needy residents in the Binghamton area will be able to have more nutritious food available to them, resulting in a healthier lifestyle, especially when it comes to children and the elderly."
The Walmart Foundation State Giving Program strives to award grants that have a long-lasting, positive impact on communities. Last year, the state giving program awarded more than $20 million to local non-profit organizations across New York.
To be considered for support, prospective grantee organizations must submit applications online through the Walmart Foundation State Giving Program. Eligible applicants must have a current 501 (c)(3) tax-exempt status and meet other criteria.
In New York, a team of local Walmart store associates reviews eligible grant applications and makes funding recommendations to the Walmart Foundation.
In 2012, Walmart and the Walmart Foundation gave more than $1 billion in cash and in-kind contributions around the world. This includes $1 billion in cash and in-kind gifts in the United States and $82.2 million in cash and in-kind gifts in international markets. In addition, Walmart, Sam's Club and Logistics Associates volunteered more than 2.2 million hours, generating $18 million to U.S. non-profit organizations.
Walmart and the Walmart Foundation are committed to helping people live better through philanthropic efforts. By operating globally and giving back locally, Walmart is uniquely positioned to address the needs of the communities it serves and make a significant social impact within its core areas of giving: Hunger Relief & Healthy Eating, Sustainability, Career Opportunity and Women's Economic Empowerment.. Walmart and the Walmart Foundation are leading the fight against hunger in the United States with a $2 billion commitment through 2015. Walmart has donated more than 1 billion meals to those in need across the country.
To learn more about Walmart's giving, visit www.foundation.walmart.com.