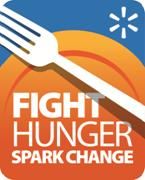 The Food Bank of the Southern Tier is in the running for $60,000 through a national, on-line voting competition. Part of the award will be given to one of our own pantries, Mother Teresa's Cupboard in Endicott. Only the top 50 food banks will receive the funding, so more votes are needed to move them up in the ranks.
You can vote for the Food Bank today, and everyday. Voting is allowed every 24 hours. Every vote matters to children, seniors and families in the Broome County area, as well as the other 5 counties that the Food Bank supports. By voting daily you will help not only Mother Teresa's Cupboard, but also everyone that benefits from the Mobile Food Pantry, as well as our pantry at 100 Main Street.
To vote, go to http://www.walmart.com/fighthunger and Type "NY" into the search bar at the bottom. Click on Food Bank of the Southern Tier on the next page and then follow the steps to complete your vote. Voting ends on October 5th, so vote now, and often!