Welcome to Catholic Charities of Broome County!
We exist to raise awareness for our cause and bring change to the lives of those we serve in Broome County. With your help we can make a difference. Our website furthers our mission by providing ways for you to learn more and get involved. Thanks for visiting. Your support is appreciated.
Prime Care Coordination
Effective July 1st, 2018, Medicaid Service Coordination will transition to Health Home Care Management. Catholic Charities has aligned with Prime Care Coordination, a designated Care Coordination Organization in our region, which will be able to provide  the best possible service. We are happy to help you enroll with Prime Care prior to July 1st, and can provide you with more information regarding Care Coordination. We have worked closely with Prime Care to ensure all of your needs will be met, and we encourage you to reach out to the Prime Care team if you have any additional questions.
Free Summer Meals
Free breakfast and lunch programs are being held at various Broome County sites over the summer, for kids and teens 18 and under. Click below to find a site near you.
In addition to these sites, Catholic Charities will be hosting a free Summer Lunch Program at 2 locations. Children under 7 must be accompanied by an adult; 1 adult (per child) may also eat lunch:
June 25,2018-August 3, 2018: Redemmer Lutheran Church - 72 Main St. Bingamton - 12:00pm-12:50pm M-F (closed July 4th)
July 2, 2018-August 17, 2018: Mother Teresa's Cupboard - 202 Garfield Ave. Endicott (St. Ambrose Church) - 11:30am-12:30pm M-F (closed July 4th)
"Building Healthy Communities"
In 2017, Catholic Charities celebrated our 80th anniversary of serving those in need in Broome County.  As we continue our tradtion of supporting the most vulnerable in our community, we present to you a report on the progress we made in 2017 through new and innovative programs, renewal of existing programs and continued growth in building a community of support for the mission of the Agency. Our staff, Diocesan leadership, board of directors, volunteers, supporters  and donors make it possible to serve over 50,000 people each year.
At Catholic Charities we welcome all those who turn to us for help and are inspired by the accomplishments of the people that we are privileged to serve.
Lori Accardi, Executive Director
---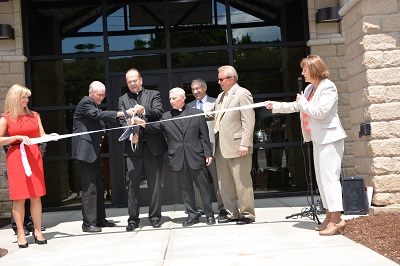 Grand Opening Celebration

---