Welcome to Catholic Charities of Broome County!
We exist to raise awareness for our cause and bring change to the lives of those we serve in Broome County. With your help we can make a difference. Our website furthers our mission by providing ways for you to learn more and get involved. Thanks for visiting. Your support is appreciated.
Our hearts and prayers are with all those impacted by Tropical Storm Harvey. As a community that has experienced flooding, we truly understand the devastation and loss that occurs. There are many relief efforts in process including a donation fund being coordinated through Catholic Charities. Anyone wishing to donate can address their checks to "Diocese of Syracuse - Hurricane Harvey Relief" and forward it to: Chancery Office 240 East Onondaga Street Syracuse NY 13202 Attention: Hurricane Harvey fund.  Funds collected will be sent to CCUSA Disaster Relief. Donors can also give directly here: Catholic Charities of USA https://catholiccharitiesusa.org/  or text 71777 to make a donation. Funds are used for both immediate and long term recovery efforts.
"Creating Hope, Transforming Lives"
We are pleased to present a report on the progress we made in 2016 in continuing established programs, developing new initiatives and collaborating locally and accross our state to create hope and transform lives.  Through the creative energy and passion of our Executive leadership and staff, Diocesan leadership, Board of Directors, volunteers, donors and supporters, we serve over 50,000 people each year. 
It is with a sense of profound gratitude and humility that we offer our services as always for the greater glory of God.  We welcome all those who turn to us for help and celebrate the accomplishments of the people that we are privileged to serve.
Lori Accardi, Executive Director
---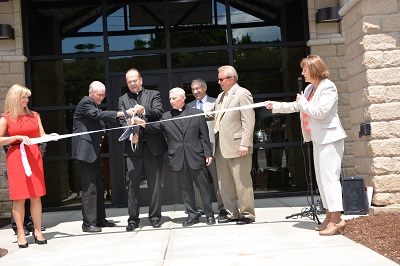 Grand Opening Celebration

---