Four Seasons Club
Program: The clubhouse operates work units that are designed to help members achieve or regain the confidence and skills necessary to lead vocationally productive and satisfying lives. The work units include kitchen, snack bar, maintenance, clerical, thrift store, and employment.
Eligibility: Adults 18 and older with a psychiatric disability
Contact: 773-1184
Wares Like New Thrift Shop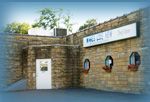 Program: Providing quality, used clothing for those in need. Help us to help others.
Available to: Famillies and individuals in need of help obtaining clothing.
Location:
Wares Like New Thrift Shop
277 Front Street
Binghamton, NY
Contact: 773-0993
A Stepping Stone Drop in Center
Program: The drop in center is a safe non-threatening haven for recipients of mental health services to "drop-in" at their convenience. Self-help/advocacy resources are available as well as support groups, education and social opportunities.
Available to: Recipients of Catholic Charities mental health services.
Contact: 773-3204