Welcome to Catholic Charities of Broome County!
We exist to raise awareness for our cause and bring change to the lives of those we serve in Broome County. With your help we can make a difference. Our website furthers our mission by providing ways for you to learn more and get involved. Thanks for visiting. Your support is appreciated.
Prime Care Coordination
Effective July 1st, 2018, Medicaid Service Coordination will transition to Health Home Care Management. Catholic Charities has aligned with Prime Care Coordination, a designated Care Coordination Organization in our region, which will be able to provide  the best possible service. We are happy to help you enroll with Prime Care prior to July 1st, and can provide you with more information regarding Care Coordination. We have worked closely with Prime Care to ensure all of your needs will be met, and we encourage you to reach out to the Prime Care team if you have any additional questions.
"Creating Hope, Transforming Lives"
We are pleased to present a report on the progress we made in 2016 in continuing established programs, developing new initiatives and collaborating locally and accross our state to create hope and transform lives.  Through the creative energy and passion of our Executive leadership and staff, Diocesan leadership, Board of Directors, volunteers, donors and supporters, we serve over 50,000 people each year. 
It is with a sense of profound gratitude and humility that we offer our services as always for the greater glory of God.  We welcome all those who turn to us for help and celebrate the accomplishments of the people that we are privileged to serve.
Lori Accardi, Executive Director
---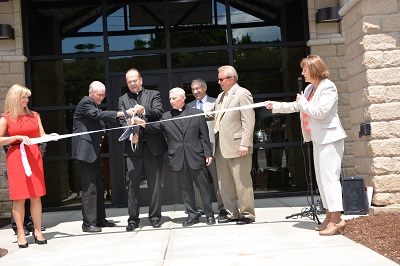 Grand Opening Celebration

---