The Mission of Catholic Charities of the Roman Catholic Diocese of Syracuse is to empower people in need to transform their lives. We strive to reflect God's love and compassion in all that we do.

This annual report is dedicated to Dick Rex, our first Four Seasons Clubhouse Director who first came to Catholic Charities as a shared staff from the Binghamton Psychiatric Center. Dick was known for his fierce advocacy on behalf of those with a serious mental illness and for support of their talents and potential as they found a place to belong in being members of the Club. As we celebrate the 40th anniversary of Four Seasons in 2023, we remember him with fondness and are grateful for his legacy.

When Msgr. Joe Toomey started Catholic Charities of Broome County in 1937 with its first $8,000 budget, little would he know that he began a gift to our community that now spans more than 85 years.
From inception to present, thousands of people have been helped in our community through food, housing, and basic necessities as well as through services like counseling, care management, mental health treatment and community support.
Through the years the agency has been an ever evolving organization that continually responds to current needs, whether it be assisting people to move out of poverty, preventing homelessness, helping people with mental illness and addictions on the road to recovery or providing individuals with intellectual/developmental disabilities with a home. Keeping families together through crises, helping youth move successfully into adulthood and offering seniors a way to continue to give back to their community are all program themes that are engrained in many of our services.
Starting in 2020, Catholic Charities maintained its presence in the community throughout the pandemic and recovery; indeed it has been active in disasters such as the floods of 2006 and 2011 and the American Civic Association tragedy of 2009. Wherever those most in need gather, there will you find the staff, volunteers and board of Catholic Charities, along with its faithful donors and supporters.
We are most fortunate and grateful for the vision of Msgr. Toomey and the legacy he left that is Catholic Charities.
Sincerely,
Lori Accardi
Executive Director

After ten years of developing Encompass into an adult Health Home serving thousands of adults and children, a move was made to join four other lead Health Homes under Health Homes of Upstate NY in accessing managed services operations. This strengthened our ability to serve adults and broadened HHUNY's ability to expand in serving children.
---
In February 2022, the Broome County Public Library Peer Support Partnership was developed. With generous support from the Conrad and Virginia Klee Foundation and the Friends of the Broome County Public Library, Catholic Charities of Broome County has partnered with the Library to provide 39 hours of peer support per week in the Library's Public Lounge. Whether it be connecting patrons to the services and resources they need, or just providing a cup of coffee and a friendly game of Monopoly, our peer counselors are there to draw on their own life experience and process of recovery in order to serve those in need.
---
A variety of efforts were implemented to support our workforce including longevity and retention bonuses and a four day work week pilot. We continue to work on ways to support our staff through promoting a positive culture and quality of work/personal life balance.
---
In June we celebrated our 85th anniversary by recognizing businesses and organizations for their support of the Catholic Charities mission.
Outstanding Service Awards to a Business

M&T Bank
Matco Electric Corporation
Mirabito Energy Products
Walsh Family/Walsh Family Foundation

Outstanding Service Awards to a Media Partner

WBNG TV
White Knight Productions
---
In late 2022, we began to work on a plan to offer our donors more tools to consider in making legacy gifts, including bequests, IRA rollovers, donor advised funds, stock transfers and use of other instruments such as charitable remainder trusts. Learn more about Planned Giving by visiting our new website at ccbc.giftlegacy.com

Donors support Catholic Charities in many ways, through donations, in dedicating the proceeds of benefit events to various programs, in volunteering their time and talent and by being good will ambassadors of the work and mission of the agency.
Another way to provide support is to consider leaving a legacy gift. Much as Msgr. Toomey started the agency as a seedling which grew to serve thousands of people over the years, your gift through your estate, retirement assets, stocks and bonds or donor advised funds can be mutually beneficial to you as a tax benefit while assuring the longevity of the agency over the next 100 years.
We look forward to providing you with information and tools to help you consider this option in 2023.

It has been 100 years since Catholic Charities was first established in the Syracuse Diocese. As the Most Rev. Daniel J. Curley, third Bishop of Syracuse proposed when Catholic Charities was created:
"What is proposed is the creation of an organization which will be prepared to do all those things in the field of Charity which should be done, but which parishes acting alone cannot perform. It is to the organization suggested by the name – The Bishop's House of Charity – to which the Diocese can confidently turn."
Throughout the year, each area will celebrate by sharing information on its services, culminating in a special Mass and reception in the fall of 2023.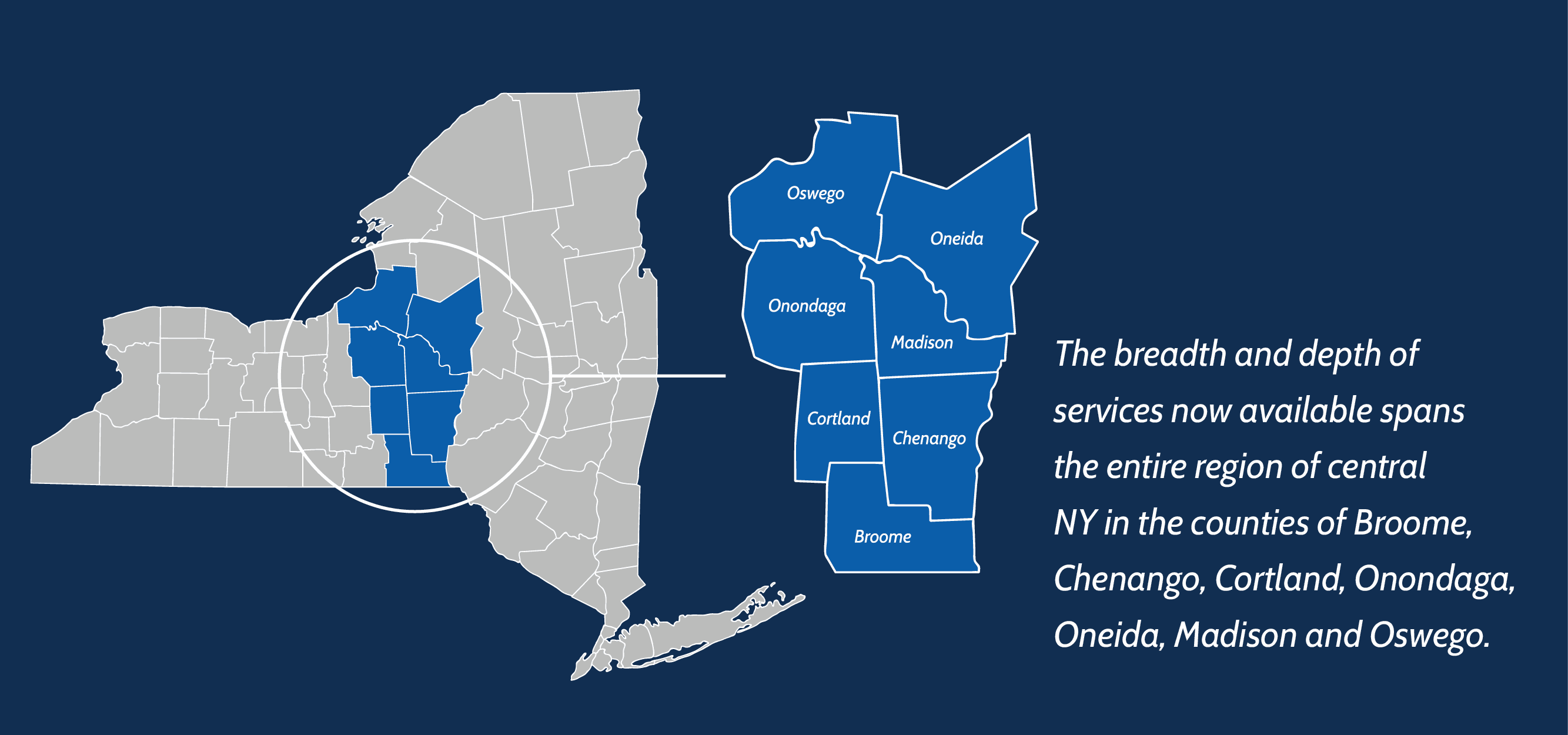 Our Residential Services stabilize and empower participants to ensure their recovery and long-term wellness. Some of the services we offer include:
Individualized residential services designed to meet the unique clinical and daily living needs of individuals with developmental disabilities
Housing levels (transitional to permanent) assisting adults with mental illness in successful community integration
assistance obtaining & furnishing an apartment
rental assistance
support and advocacy with landlords
For more information about Residential Services, call 723-1804 or visit catholiccharitiesbc.org/programs/residential_services/
Certified Apartment Program: Learning Skills for Independence

Our Youth, Family, Community Services create opportunities and conditions in youth, families, communities and parishes which ensure the health, welfare and productivity of all. Some of the services we offer include:
basic necessities of food and clothing
long-term and short-term counseling to individuals, couples and families
aid in preventing onset or progression of behavioral health conditions
apartments for homeless/runaway youth, with supports to transition successfully to adulthood
senior programs for managing arthritis, osteoporosis and chronic disease
peer advocates with lived-experience
For more information about Youth, Family, Community Services, call 584-7800 or visit catholiccharitiesbc.org/programs/youth_services/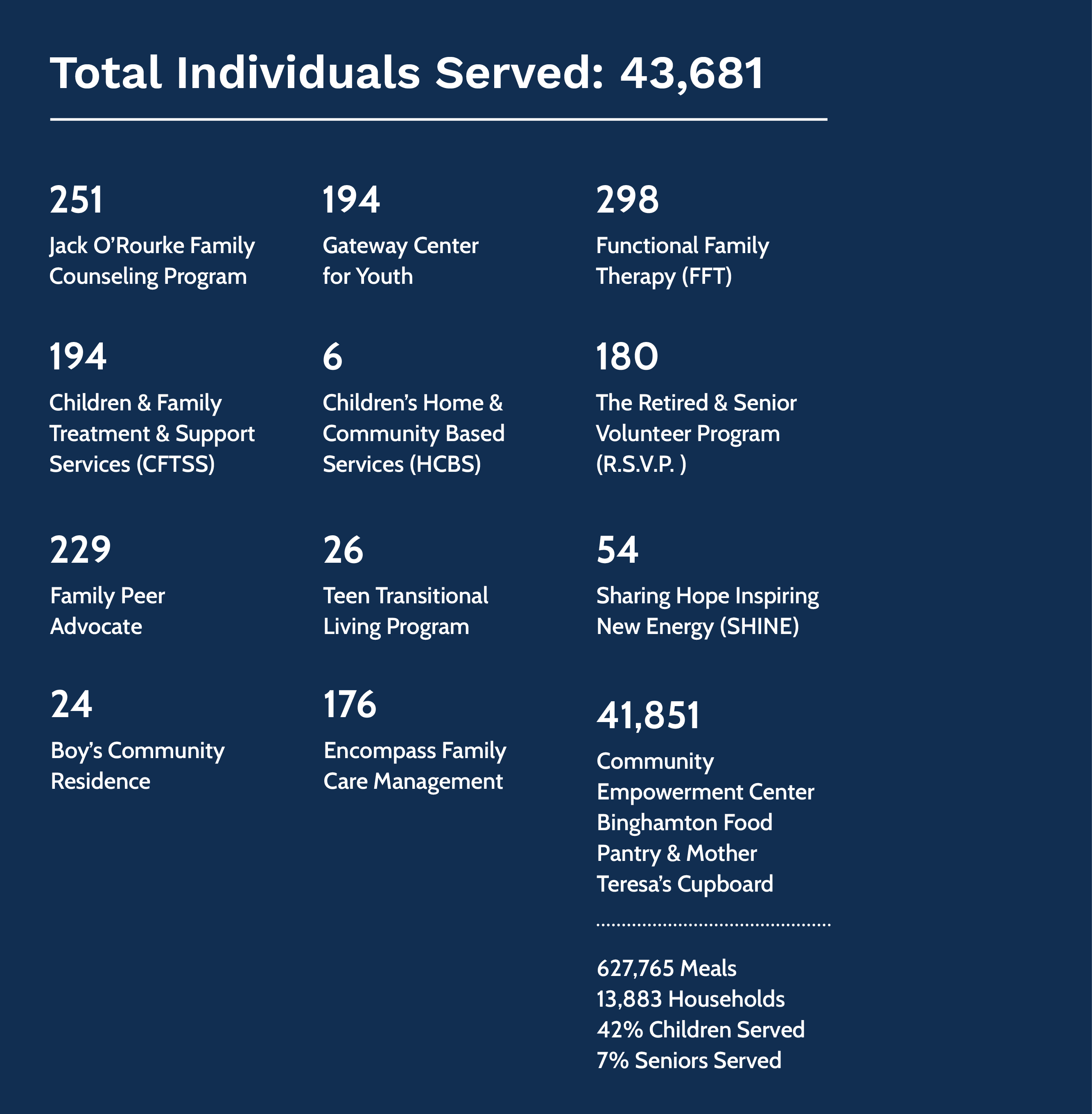 Family Peer Advocate: A Mother's Love
Linda began working with her Family Peer Advocate (FPA) while her son was hospitalized at GBHC. Her FPA assisted with helping her connect with services upon his hospital discharge. Linda's son struggled with attending school, leaving the home and not wanting his mother to leave the house due to his anxiety. Her son would go to school for about 1 hour a day and then needed to come home to be with his mother.
Linda was very involved and worked very hard at assisting her son transition home and return to school. Linda and her FPA worked together to develop natural supports that her son felt comfortable being left with and over time Linda was able to extend periods of time away from her son and as his anxiety lessened he was able to attend school for the day. Linda was willing to do whatever it took to support her son, was easy to communicate with and she followed up on any suggestions that were made.
Over the course of the time that her FPA worked to support her and get to know her, it became clear that she had so many strengths in how she parented all three of her children, all with different needs and personalities. She advocated strongly for them and encouraged them to follow their own paths and utilize their strengths.
Linda also worked hard at identifying and working towards her own goals, one of which was to obtain a job where she would find fulfillment and purpose. Linda's FPA identified for her that she had the skills necessary to help other parents advocate for their children and could support other parents during their journey to get their children's needs met. She was excited at the prospect of becoming a Family Peer Advocate, applied and went through the interview process and was hired. She is now able to use her strengths and experience to assist and support other parents in advocating for their children. Linda is now a co-worker in the Youth Family and Community Services Division.

Our Mental Health Services provide supportive environments which enhance the development of independent living skills. Some of the services we offer include:
home visits and medication monitoring
peer support groups
support to obtain and sustain integrated, competitive employment
assistance with budgeting, money management, and payment of bills
social, wellness, and educational activities
One of the newest programs we're offering is the Library Peer Project. In partnership with the Broome County Public Library, we're providing a safe space for individuals to receive support. Learn more about this program in the video below.
For more information about Mental Health Services, call 723-9991 or visit catholiccharitiesbc.org/programs/mental_health/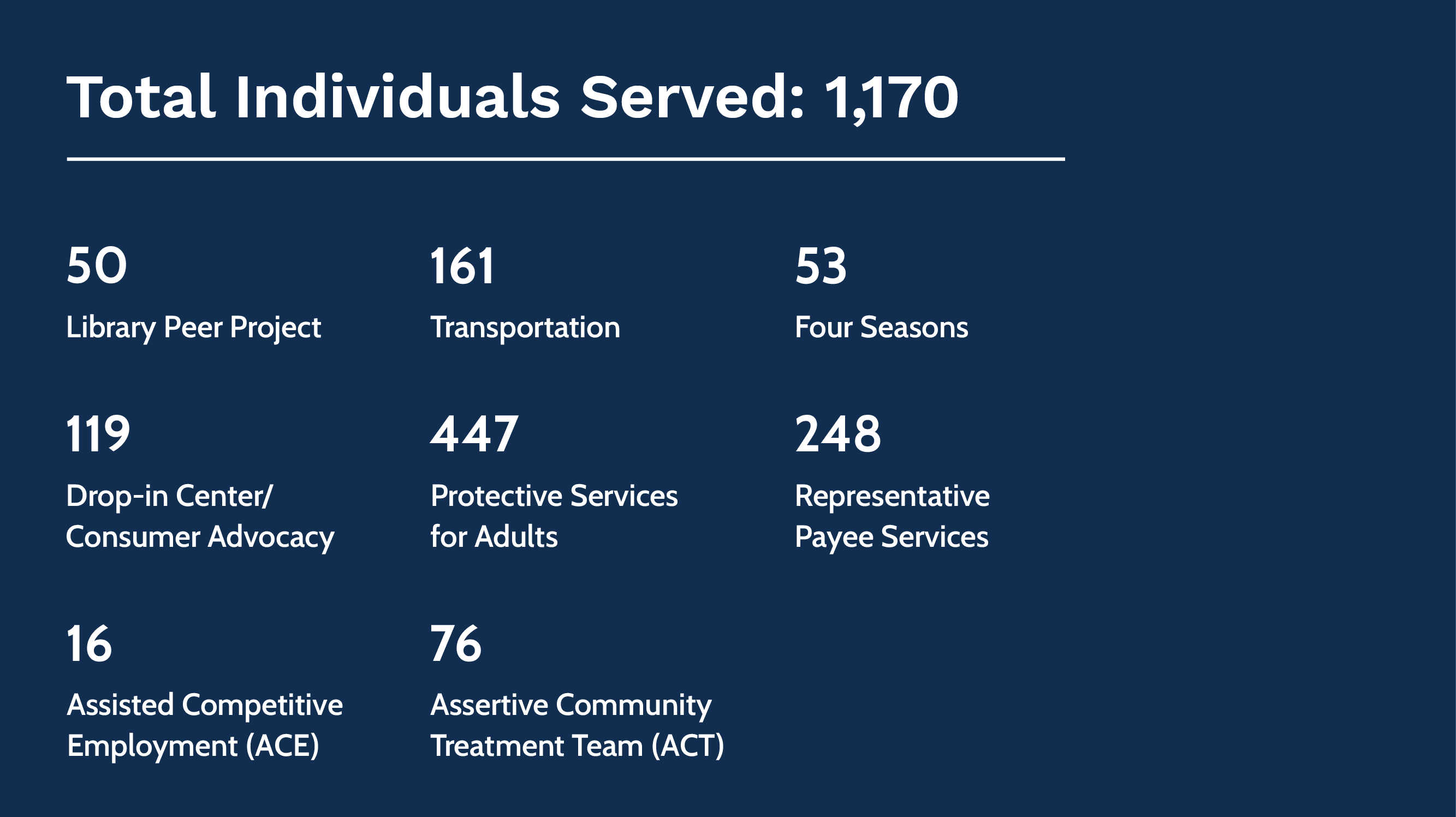 Library Peer Project: A First in New York State

In the third quarter of 2022, we saw the closure of the Encompass Adult Lead Health Home officially on 8/31/22. This marked the end of an era for Catholic Charities operating and administering adult health home services in Broome and surrounding counties. These services were provided through the partnering with other local human services agencies, and collaboratively serving low income adults with serious mental illness and chronic health conditions.
This model, mainly overseen by NYS DOH, proved to be inadequately supported financially for Lead Health Homes with lower enrollment numbers under approximately 6,000 members. Despite heroic efforts being made and the DOH approval being received to expand enrollment and coverage areas, unfortunately the impact of COVID shutdowns were deeper and longer than the agency could endure. Efforts to expand were stymied by the inability to connect with community providers and develop new relationships and contracts outside the Broome County area.
Despite this closure, the underlying program of Health Home care management continues to operate and has proven to be a strong and viable service for both the agency and local community. This program was developed originally over 30 years ago due to the agency staff commitment and expertise in serving adults with serious mental illness. The program continues today, now three times its original size, with renewed dedication to the most marginalized individuals in our community – and this continues to be the underlying strength of the program.
Notable challenges to providing these services, which have been significantly exacerbated due to COVID shutdowns, include a low income housing crisis wherein there are not enough apartments for the individuals who are in need of housing, and an increase in substance use addictions and overdoses. These challenges create additional roadblocks in members achieving stability with their wellness goals and care managers' ability to assist them in that process. The program model does allow for some high need individuals to receive more intensive services.
For more information about Community Health Services, call 723-9991 or visit catholiccharitiesbc.org/programs/health-home.html
We also have a new office in Canal Plaza! Visit 435 State Street Binghamton, NY 13901 or call 607-677-0523

Adult Care Management: A Successful Graduate
When Tim started working with Catholic Charities Adult Health Home Care Management he spent his money compulsively and was unable to manage his finances independently. He had no relationship with his daughter and was depressed and bitter about his divorce.
Since working with Catholic Charities, Tim has connected to medical, mental/ behavioral health as well as a specialist provider to address ongoing medical issues. His symptoms are being monitored and managed by providers.
Tim attends all his appointments and willingly follows provider's recommendations. He has affordable safe housing and his social service benefits in place. Tim also manages his finances and budgets well. His daughter was set to be his rep-payee, but because he has done such a wonderful job budgeting, he was able to remain his own rep-payee. Tim owns a car and therefore has reliable and safe transportation.
Tim's social support system is strong and his relationship with his daughter had improved greatly. He vacationed with her family over the summer and gets to spend time with his grandson. Tim attends the Four Seasons Club twice a week and also attends the Stepping Stones Drop In Center.
Tim continues to do the work to maintain his independence in the community and we could not be any more proud of him. He successfully graduated care management services in November 2022.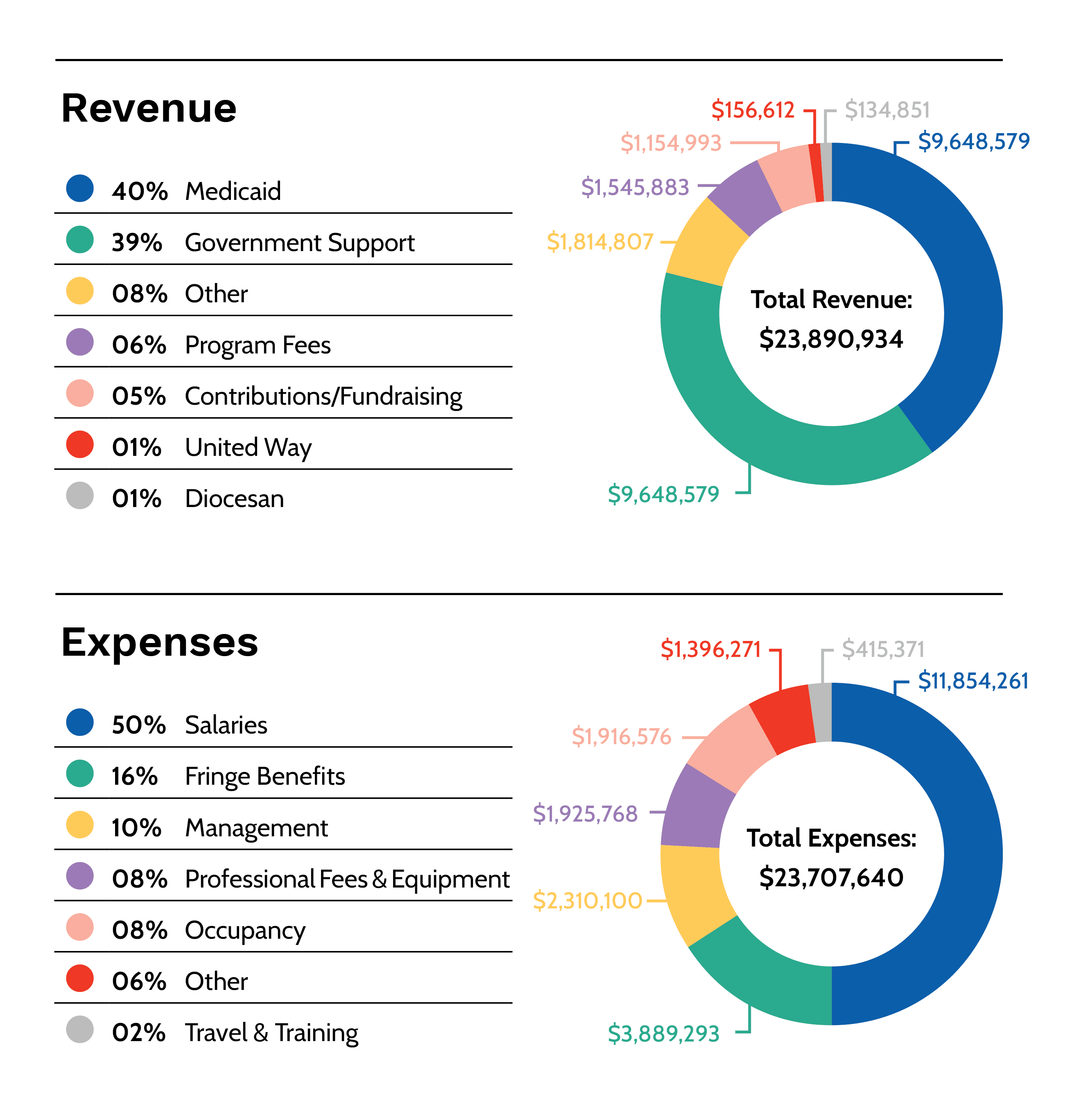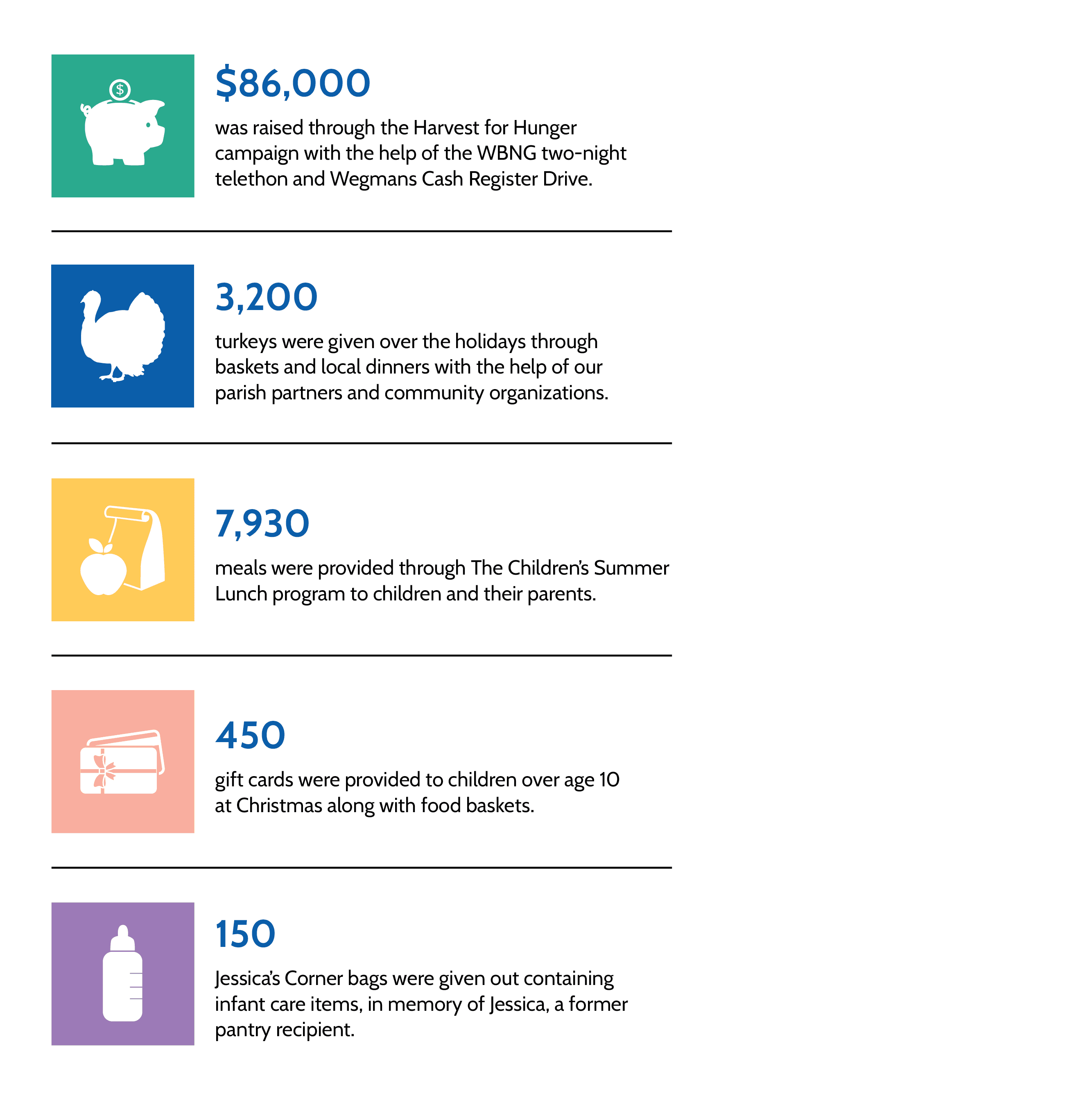 "Leave a Legacy" will be a main theme in 2023 as we roll out our first legacy society: Love, Hope and Service, the LHS Society. This inaugural group is being created to enlist support for Catholic Charities of Broome County so that the agency mission can be continued in the years to come. It enables people to leave a piece of themselves in this world as a way to provide a message of love, hope and service for others in need.  This society, described on our new Planned Giving website, will allow donors to expand the many ways that they can support the agency and leave their own legacy. We look forward to sharing our vision of this effort in the coming year.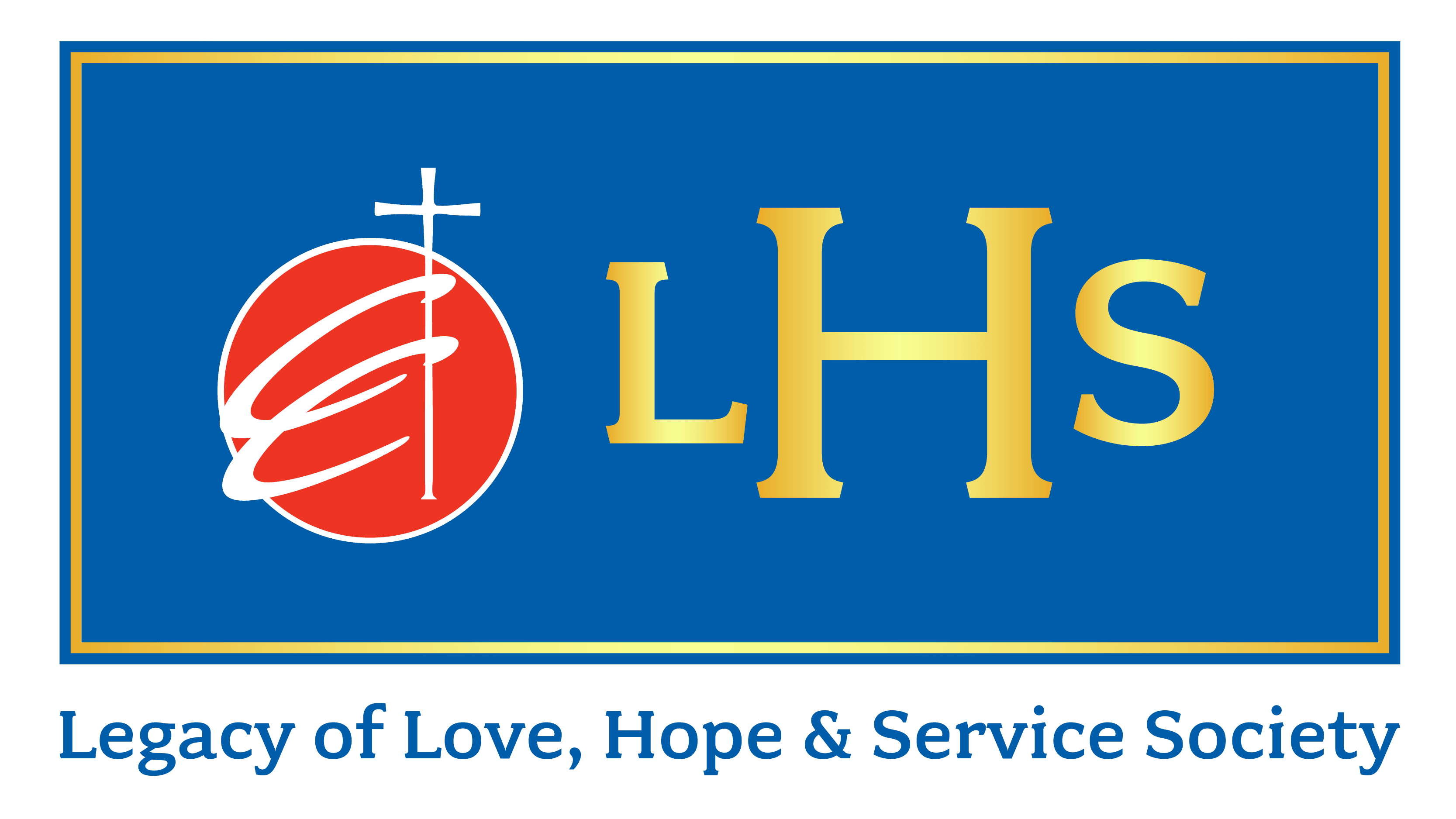 In honor of the 100th anniversary of the presence of Catholic Charities in the Diocese of Syracuse, we have issued an Art Challenge to artists throughout the diocese to submit 2D or 3D works of art with the themes of our past, present and vision for the future with a tie into Catholic Social teachings.
Award winners and all artists accepted into the competition will be invited to a Brunch Exhibition on August 20th. Selected artwork will be installed within Catholic Charities facilities.
Visit https://www.catholiccharitiesbc.org/news_publications/100th-anniversary-call-for-art-challenge.html for more information.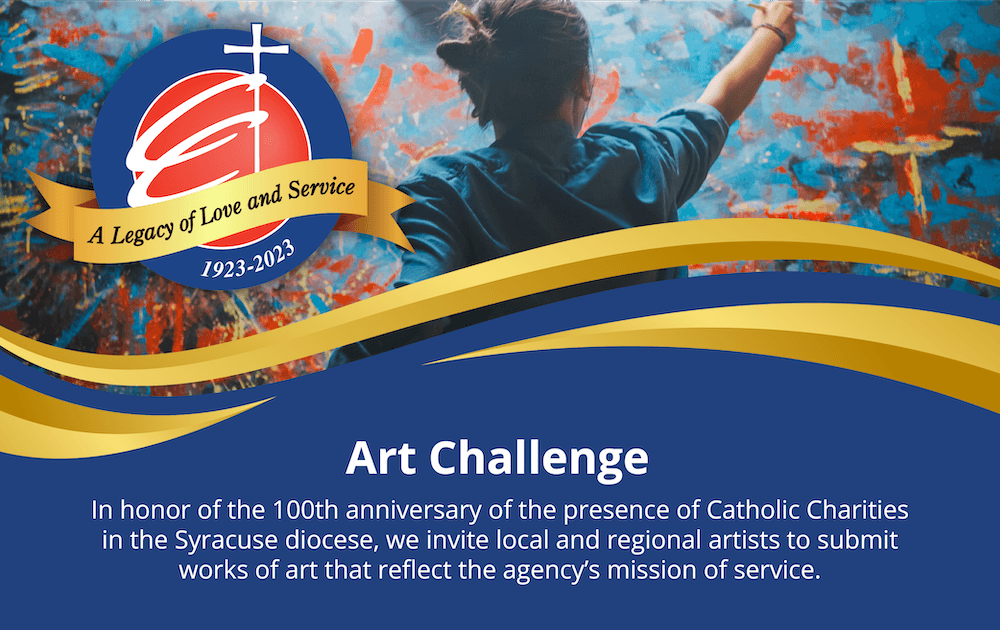 We anticipate continuing to work on how we can support our workforce, who stood so solidly behind us in making sure that services were not interrupted during COVID. As part of this effort, we will launch an Employee Engagement Committee to assist us.
In June we will hold our first in-person agency picnic and staff recognition event since 2019; we look forward to once again enjoying good food and fun as we celebrate our staff achievements.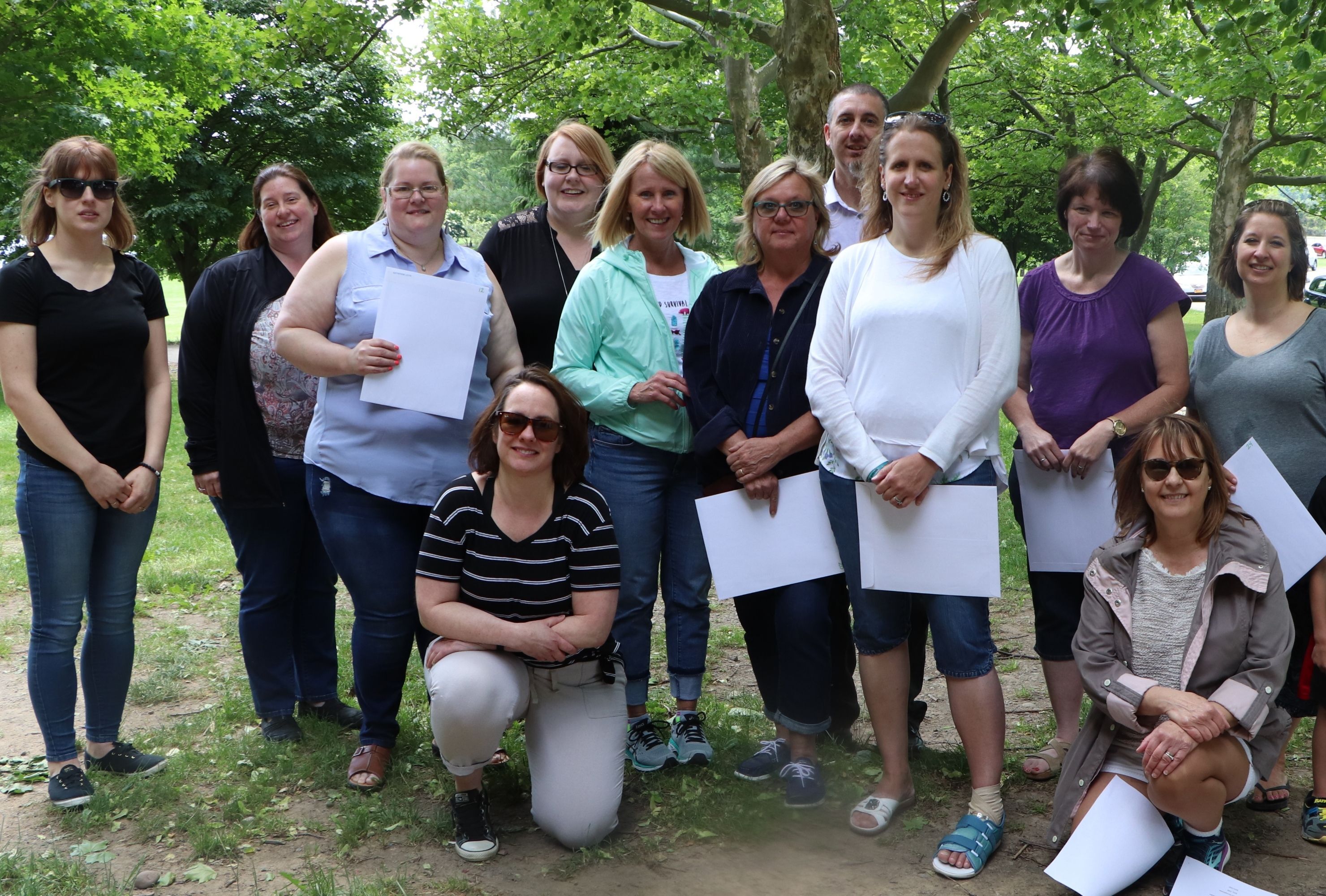 With thanks to our Donors
Through your generosity, you made a difference in the lives of people of all ages in our community. Children living in poverty and seniors isolated by physical challenges, families suffering from economic circumstances such as job loss and illness, people with special needs such as mental illness and developmental disabilities – all benefited because you cared enough to share your time, talent and treasure.
Business & Organization Donations
$25,000+
Wegmans Food Markets, Inc.
United Way of Broome County
$10,000-$24,999
America's Charities
Catholic Charities of The Roman Catholic Diocese of Syracuse
Most Holy Rosary Church
Church of the Holy Family
Heritage Campaign Inc.
$5,000-$9,999
BAE Systems BAE Systems
Excellus Blue Cross Blue Shield Central NY
M&T Charitable Foundation
United Way Campaign
Security Mutual Life Insurance Company of NY
St. Ambrose Church
St. Joseph's Church
$2,500-$4,999
IBM Employee Services Center
Johnson City Elks 2821
State Employees Federated Appeal
$1,000-$2,499
Auchinachie Plumbing, Heating & Air Conditioning
Bridgeware Systems, Inc.
Care Compass Network
Chemung Canal Trust Company
Fidelity Charitable Gift Fund
First Presbyterian Church of Endicott, Inc.
Howard Hanna Real Estate
Knights of Columbus No 206
Lourdes Employee Charitable Contribution Organization
Micron Technology Foundation
Nexo Group LLC
SERVPRO of Broome County
St. Thomas Aquinas Church
Tioga Downs Racetrack, LLC
UHS Employees
$500-$999
AJQ Sports Management
Ancient Order of Hibernians
BAE Systems
Gentle Dental Care
Hibernian Parade Committee of Broome, Inc.
Ogden Hillcrest United Methodist Church
Scoville-Meno Auto Plaza
Slavik & Company, Inc.
St Francis Fraternity
Studer's Body Shop & Garage
Triple Cities Street Rods
Visions Federal Credit Union
$250-$499
Broome Co. Assn. of Highway Officials
Endicott Sertoma Club
Endwell Family Physicians
IBM Retiree Charitable Campaign
Liberty Mutual
Magnetar Capital Foundation
Manning & Napier
Network For Good
The Jacob and Rose Olum Foundation
Tisbest Philanthropy
United Way Of The Southern Tier
$100-$249
Binghamton Fluorescent
Czechoslovak Moravian Club, Inc.
NYSEG Line Apprentice Class 25
Sam A. Lupo & Sons, Inc.
Substitutes United In Broome
The Blackbaud Giving Fund/ YourCause
The Learning Ladder
Transfiguration Monastery
United Way of Central New York
Individual Donations
$10,000-$25,000
Mr. & Mrs. David J. Culbertson
Ms. Lola F. Schumann
$5,000-$9,999
$2,500-$4,999
Mr. John R. Ingalls
Ms. Janet Kerstetter
$1,000-$2499
Mr. & Mrs. Raymond F. Berchtold
Mr. Joe Betzenhauser
Ms. Elizabeth Bobik
Mrs. Kathryn Booth
Mr. Mark Bowman
Mr. & Mrs. Bruce W. Boyea
Mr. & Mrs. Ralph Broden
Ms. Mary Frances H. Charsky
Mr. Thomas H. Collart
Mr. & Mrs. James R. Franz
Mr. & Mrs. Anthony Gold
Mr. J. Richard Hartigan
Mr. Curtis P Hartwig
Ms. Mary E. Kelly
Ms. Mary Ellen McGory
Mr. John McHale
Ms. Renee Micha
Ms. Kim C. Myers
Nestor Nestor
Mr. Robert Parmelee
Dr. & Mrs. John S. Perry
Ms. Lu Robbins
Ms. Cynthia Roma
Ms. Josephine A. Scanlon
Ms. Dorothea M. Smith
Mr. & Mrs. Larry Stevens
Mr. & Mrs. Allyn Storm
Mr. & Mrs. Dennis M. Sweeney
Mrs. Kathleen Telfer
Mr. Ronald Vienneau
Ms. Annette Wiesner
$500-$999
Jessica Almy
Unknown Anonymous
Ms. Patricia Boehlert
Ms. Janet Bordages
Mr. Mark Bowman
Mr. Mark Buza
Mr. Matthew Cempa
Mr. Gerard Coon
Ms. Kathy L. Crandall
Mr. & Mrs. Frank Dell'Aquila
Mr. Joseph Donahue
Mr. & Mrs. Kevin Donoghue
Mr. & Mrs. Sally Elliott
Ms. Giulia Finsel
Mr. & Ms. John Frazier
Ms. Virginia Freedman
Mr. Richard Gasparovic
Mr. & Mrs. David Guy
Ms. Anne Healy
Mr. John J. Henehan Jr.
Mr. & Mrs. Thomas P. Hoke
Mr. & Mrs. John Hussar
Mr. Robert G. Mann
Mr. Timothy Minehan
Ms. Janet E Muhich
Mr. Braden O'Connor
Ms. Denise Orzel
Mr. & Mrs. Tam Pham
Ms. Kathleen Scherhaufer
Mr. & Mrs. Richard F. Sheehan
Mr. Mark Sowa
Mr. Vincent Stracuzzi
Ms. Kathleen M. Talbot
Ms. Margaret Tobais
Mr. Joseph Trepa
Ms. Maryan E. Wessels
$250-$499
Mr. & Mrs. Vincent Accardi
Mr. Nicholas Baldwin
Mr. & Mrs. Mike L. Benko
Ms. Mary Bentlage
Ms. Susan Bretscher
Mr. & Mrs. Robert W. Brown
Ms. Raylene Byce
Mr. & Mrs. Pat Carbone
Mr. & Mrs. Robert N. Cargill
Ms. Mary Ann Connor
Ms. Eileen Corey
Ms. Marie A. Davenport
Ms. Debbie DeNinis
Mr. & Mrs. David Fawns
Mr. & Mrs Doug Fett
Mr. & Mrs. Douglas Fett
Mr. Owen Fitzgerald
Mr. August Garufy
Ms. Jean Gasper
Mr. Dr Francis & Mrs Joyce Gilroy M.D.
Mr. & Mrs. Robert Gomulka
Mr. Joseph F. Kilmer
Mr. Jeffrey Largue
Mr. & Mrs. William M. Marsh
Mr. & Mrs. Robert L. McMahon
Mr. & Mrs. James Means
Mr. Sergio Porcari
Reverend John Putano
Mr. & Mrs. Luis R. Roberto
Ms. Sally Saracino
Mr. & Mrs. George Scherer
Mr. Tyler Shelepak
Mr. James Showalter
Mr. & Mrs. Joseph G. Slavik
Ms. Carol Thayne
Mr. John VanBroderick
Ms. Lauren Vienneau
Mr. & Mrs. Kenneth Yale
Ms. Rachael Zandt
Ms. Annamary Zappia
$100-$249
Mr. & Mrs. Paul Adams
Deacon Adeolu Ademoyo
Mr. & Mrs. Louis A. Alfonsetti
Mr. & Mrs. Wesley E. Allen
Ms. Melissa Andres
Mr. Ronald Babcock
Mr. Louis Barba
Ms. Andrea M Barbis
Ms. Melissa Bartholomew
Ms. Marilena Benko
Mr. Richard S. Blumm
Mr. Michael L. Bradley
Mrs. Susan Bretscher
Ms. Candace Brown
Mr. & Mrs. Richard R. Bucci
Ms. Melina Bueche
Mr. & Mrs. Joseph P. Buonomo
Mr. & Mrs. Daniel J Burns
Mr. Eugene W. Burns
Mr. William Burtis Jr.
Ms. Ginny Cannon
Mr. & Mrs. Richard A. Ceponis
Ms. Lynn Chamberlin
Ms Sue Cheevers
Ms. Ann M. Cleary
Mr. James Conrow
Mr. & Mrs. Gary Conroy
Mr. & Mrs. Charles Constable
Mr. Roger Conti
Mr. & Mrs. Thomas Creagh
Ms. Mary Kay Curley
Ms. Norma Cushner
Ms. Christine Czefiniak
Mr. & Mrs. John W. Dancesia
Mr. & Mrs. Ronald Davis
Ms. Lisa Decker
Dr. & Mrs. Bruce Denham
Ms. Shelley Deuel
Mr. Howard Dillingham
Ms. Mary Lou Divis
Mr. Paul R. Driscoll
Mr. & Mrs. Gilbert Durham
Ms. Joan Eisch
Mr. & Mrs. Thomas R. Esworthy
Mr. & Mrs. Charlie Faciszewski
Mr. Richard Fassold
Mr. & Mrs. Ronald Feduke
Ms. Carol Finch
Mr. & Mrs. John Finch
Mr. & Mrs. Timothy Fives
Mr. Gene Flint
Mr. & Mrs. Ray Frederick
Ms. Helena Garan
Mr. & Mrs. John Garrison
Ms. Laurie Gleasman-Hulbert
Mr. Andrew J. Gronski
Ms. Lori Grumet Schapiro
Ms. Rebecca Hancock
Ms. Kathleen Hannon
Mr. Harold Harrington
Mr. & Ms. Robert Hauser
Ms. Rose Hawkes
Ms. Lori Holland
Mr. George Homsy
Ms. Agnes Horney
Ms. Karen Huff
Ms. Andrea Hurley
Mr. & Mrs. John Irving
Ms. Carol Jackson
Ms. Carolyn Jadwin
Mr. Joseph James
Ms. Barbara Jaworski
Ms. Diane Julian
Mr. & Mrs. Richard P. Kane
Mr. Robert Kematick
Ms. Maria Kirk
Mr. & Mrs. Robert Kitchen
Ms. Jacquelyn Klees
Mr. & Mrs. Barry M. Koffman
Ms. Patrice L L. Kofira
Ms. Susan W. Kost
Mr. & Mrs. Joe Kulesza
Ms. Phyllis LaBarge
Mr. Dave Lang
Ms. Ellen Lasoff
Mr. David Lee
Mr. & Mrs. Richard L. Lesko
Ms. Madeline Lessler
Mr. & Mrs. Timothy Limer
Mr. & Mrs. Timothy Limer
Mr. & Mrs. John R. Lindley
Rev. Laurence Lord
Ms. Kathryn Lornan
Ms. Mary H MacGuire
Mr. & Mrs. Joseph C. Maher
Ms. Bonnie Mando
Ms. Mary Marrer
Mr. & Mrs. Robert A. Martone
Ms. Barbara Maslak
Mr. & Mrs. Brian K. Mather
Ms. Judith Matthews
Mr. John Mattioli
Dennis McCabe
Mr. Robert F. McCabe
Ms. Carol McCarthy
Mr. & Mrs. Robert McCarthy
Mr. Paul McDonough
Mr. Kevin J. McKeown
Mr. & Mrs. Brian M. Michl
Mr. William L. Michl
Mrs. Elaine Miller
Jane Miller
Ms. Joy Miller
Ms. Beverly Mills
Mrs. Rosemary Mirabito
Ms. Katherine Muggeo
Ms. Cynthia Mullen
Mr. Richard Murphy
Mr. & Mrs. Dennis R. Musselwhite
Ms. Dorene Neer
Ms. Patricia Newland
Mrs. Bernadette M. O'Hara
Mr. Michael Orlovsky
Dr. & Mrs. Thomas J. Oven
Ms. Maryellen L. Palmatier
Ms. Donna L Pancoast
Mr. & Mrs. John P. Pecen
Mrs. & Mr. Dan Pfaffenbach
Ms. Susan Pitely
Ms. Carol Pothier
Mr. & Mrs. Robert J. Quinn
Mr. & Mrs. Harold J. Rahner
Ms. Virginia M Redmon
Mr. John Reid
Mr. Donald Reino
Mr. & Mrs. John P. Riesbeck
Ms. Anne E. Riley
Mr. & Mrs. Oliver W. Riley Jr.
Mrs. Mary Roma
Ms. Carol A. Roote
Ms. RoseAnn Rouff
Mr. & Mrs. Jeff Rudler
Mr. & Mrs. John P Ryan
Ms. Brenda Saunder
Mr. John E. Sexton
Ms. Margaret Shavalier
Mr. Andy Shuman
Mrs. Nancy Shuman
Mr. John Sienko Jr
Ms. Anita Sitarski
Ms. Maryann Smilnak
Mr. Timothy Smilnak
Mrs. Julie A. Smith
Ms. Rosemarie Snyder
Ms. Joan Soviech
Mr. Kevin J. Spanfelner
Mr.& Mrs. Frederick A. Spencer Jr.
Ms. Mary Sullivan
Mr. & Mrs. Gerardo J. Tagliaferri
Ms. Joan Terrina
Mr. Larry Tierney
Mr. David Tierno
Ms. Rose Townsend
Ms. Marie Turock
Ms. Nola Urdanick
Ms. Debra A. Vallese
Dr. & Mrs. Thomas R. Van Gorder
Mr. & Mrs. Donald R. VanDick
Mr. Michael R. Vaseleck
Ms. Patricia Waker
Ms. Carolyn Walker
Mr. & Mrs. Michael Washington
Mr. & Mrs. Jim Weber
Mr. & Mrs. Paul Weckel
Ms. Fran Weingartner
Father Jon Werner
Mr. Earl Westerlund
Ms. Diane D. Wheeler-Busch
Mr. & Mrs. Charles F. Woidt Jr.
Ms. Mary Ann Wolpert
Mr. & Mrs. Michael J. Wolyniak
Mr. Joe Yezzi
Mr. & Mrs. Mark Young
Mr. & Mrs. Kenneth C. Zunic