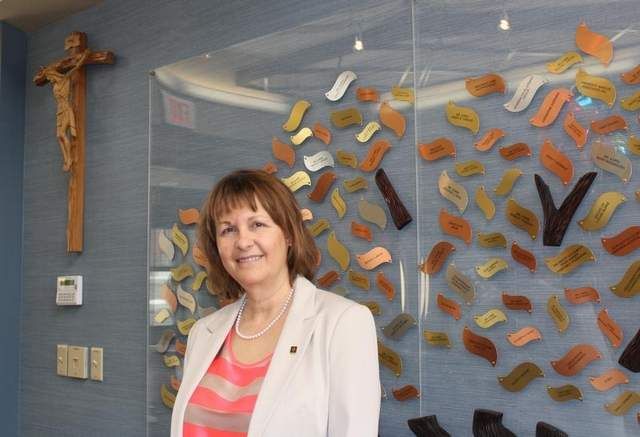 When Lori Accardi joined Catholic Charities of Broome County, the charitable organization had about 60 employees and a $1 million budget. Today, after nearly 35 years working there, Accardi leads Catholic Charities as Executive Director and oversees a group that has 480 employees, many of them part-time, and a $20 million budget.
As a leader, she said, the most important role is "setting the vision and setting direction" for the future and "helping people come together." The 60-year-old Vestal resident graduated from the State University of New York at Oswego with a bachelor's degree in sociology and in 1978 earned her master's in social work from the State University of New York at Buffalo.
She worked for the Erie County Department of Social Services after graduation, but in 1980 joined Catholic Charities in Broome County, rising through the ranks before becoming executive director in 2010.
"It is important to mentor and encourage others," Accardi said of her leadership
style in a recent interview at her offices on Main Street in Binghamton. A good leader, she explained, needs to be able to "change their style and approach based on certain situations" and because of all the changes that go on constantly, you need to be able to be "flexible and adaptable."
One of the biggest challenges facing leaders is making sure their organizations keep up with the times, she said. Consider the different generations that are served by Catholic Charities. How do you reach them? For example, "we want to make sure we are reaching the young people and want to understand their needs to be able to help them or even in hiring the right young talent" to sustain the mission of Catholic Charities for the future, Accardi said.
In her development as a leader, she spoke of the support from Joseph G. Slavik, the former executive director in Broome County. When he moved up to become the diocesan director of Catholic Charities, based in Syracuse, his mentoring and training of Accardi allowed her to step into the head job here, she said.
Accardi's mission and that of her organization are reflected in the more than 40 programs supported by Catholic Charities. Those programs range from food pantries to mental health housing to youth services.
As the organization continues to grow, Accardi said there are "opportunities to provide feedback through employee recognition program to generate ideas." The organization has different committees such as the ethics and incident review.
Board members and key staff are involved in strategic planning exercises to develop and evaluate programs.
Accardi stays actively involved in state trade organizations to gather external knowledge and works with colleagues across the field in the area of mental health and public and behavioral health. She attends webinars and conferences to learn about changes that are coming that affects the organization's way to deliver services by Catholic Charities of Broome County.
When asked about her thought on what derails leaders, Accardi said the "lack of sensitivity" due to cultural situations or ability to communicate to people in a way that is constructive. She said "playing games or being manipulative and less genuine" can be a leader's downfall. For someone moving into a leadership position, Accardi advised that one should enter the role "thinking they are a service to others" and "listen and be open and have same expectations of them as you have of yourself."
She has been recognized for her work in mental health, including receiving the Empower Award in 2012 presented by the Mental Health Association of the Southern Tier for contributions to strengthening the wellness of our community. She also received the Lifetime Achievement Award from the New York State Office of Mental Health in 2000.
Out of the office, Accardi makes sure she has time to spend riding her horses while listening to music. She likes to paint, garden and she also sews and knits.
Written by Anne Nguyen, Press & Sun Bulletin
March 18, 2014