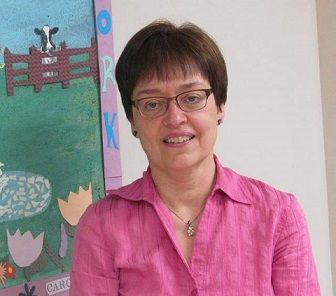 Volunteering for Abbe Hamill can literally be a walk in the park.
Or it could mean going out to dinner, seeing a show or doing arts and crafts with a client she has been matched with through the Compeer program.
"It's just fun being with each other and doing things we both like doing," said Hamill, of Binghamton. "It's been a perfect match."
Run by the Mental Health Association of the Southern Tier, the Compeer program brings volunteers together with the association's clients. Program participants must have a diagnosed mental illness and be at least 18 years old. There is a separate Compeer program for youths under age 18, said Diane Woodruff, assistant director of the adult Compeer program.
People with mental illnesses often feel isolated, Woodruff said. Compeer can help fill the social void.
"Everybody needs a friend," she said. "You need to know somebody cares."
That's what attracted Hamill to the program where she's volunteered with two different clients for 20 years.
"I've always been someone who enjoys being there for others and helping others," Hamill said. "It's who I am, I guess."
Hamill understands the loneliness and stigma which many people with mental illnesses experience. She has spent more than two decades working for Catholic Charities of Broome County where she manages two programs for people with mental illnesses: the Four Seasons Club, a wellness and vocational program; and Stepping Stone, a drop-in center. Hamill wanted to combine her experience in the mental health field with volunteering.
"I get a pretty rewarding feeling that I can maybe make a difference in somebody's life," she said. "And just be a friend to somebody."
She and her friend often walk in local parks, visit ethnic festivals in the Broome County region, have dinner at local restaurants and attend plays together. The two women often attend monthly activities such as dinners sponsored by Compeer for volunteers, clients and people who are on a waiting list for a volunteer match.
The best days of volunteering are "seeing her happy," Hamill said of her friend. She's never had a bad day volunteering in 20 years.
Hamill is one of 30 volunteers in the Compeer program. A few volunteers have two matches, Woodruff said. New volunteers are always welcome. Volunteers must commit to at least four hours a month of spending time with their friend for at least a year. They don't need to possess any special skills.
"The only special skill is just knowing how to be a friend and setting those healthy boundaries," she said.
Before matching clients to volunteers, Compeer staff consider factors such as how close the two live, their likes and their dislikes. Some matches last a year; others last decades.
Hamill is a model volunteer, Woodruff said.
"She puts her heart into it," she said of Hamill. "Having that friendship has helped both of her people to get out, to learn to have some self-confidence and to just know what a healthy relationship is."
Hamill looks forward to seeing her friend each week
"I love doing it," she said. "I know I would definitely miss it if I didn't do it. It's just become a part of my routine."
Written by:
George Basler and Connie McKinney
Press & Sun Bulletin 5/5/14